Welcome to Gallery 202!
A Gifting Gallery supporting regional artists located in Suite 202 of the 78th Street Studios Building.
Gallery Hours:
Gift 202 Holiday Collection
Wednesday, December 6th: 4-7PM | Friday, December 8th: 12-5PM
Cleveland Bazaar Holiday at 78th Street Studios & Three Lines Studio pop-up inside Gallery 202: Saturday, December 9th 10AM - 9PM & Sunday, December 10th 10AM - 6PM
Wednesday, December 13th: 4-7PM
Third Friday December 15th, 2-9PM ~ Last Third Friday of the year!
Saturday, December 16th: 12-4PM
Open all week December 18th - 23rd
Mon Dec.18th: 1-6PM | Tues., Dec. 19th: 1-6PM | Wed. Dec. 20th: 1-6PM | Thurs. Dec. 21st: 1-6PM | Fri. Dec. 22nd: 12-6PM | Sat. Dec. 23rd: 12-4PM
Or, by appointment.
Three Lines Studio
Three Lines Studio is handmade jewelry by Silvija Koschnick - a queer artist, jeweler, and bodyworker in Northeast Ohio.
Silvija will be set up inside Gallery 202 for a special Holiday Trunk Show:
Saturday, December 9th: 10AM -9PM & Sunday, December 10th: 10AM - 6PM
Silvija will be bringing a mix of jewelry featuring gemstones and ancient components from around the world.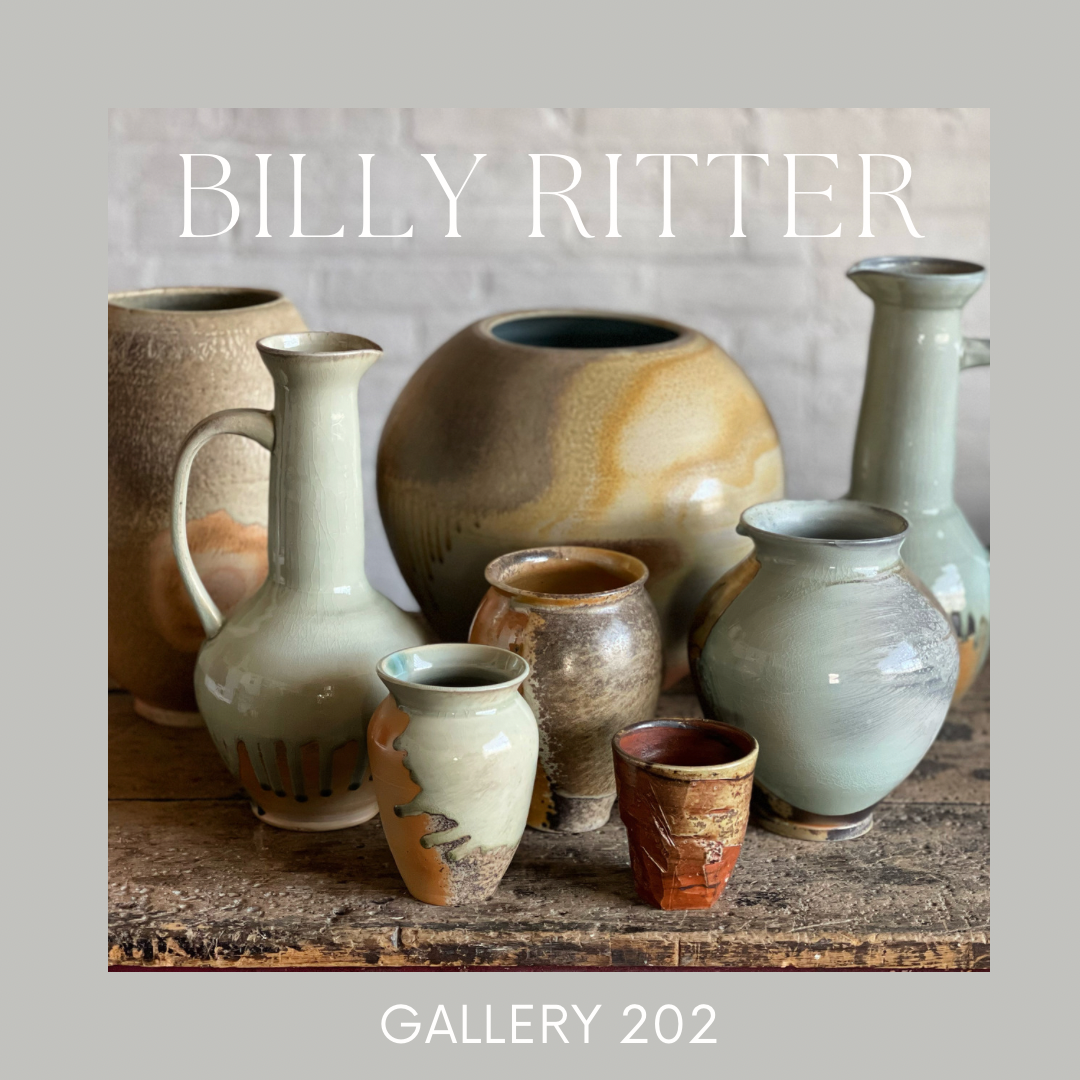 Annual Ceramics Exhibit: Currently on view
The Annual Ceramics Exhibit featuring Susan Gallagher, Andrea LeBlond, Bette Drake, and Billy Ritter, Mark Yasenchack, and Aaron Swank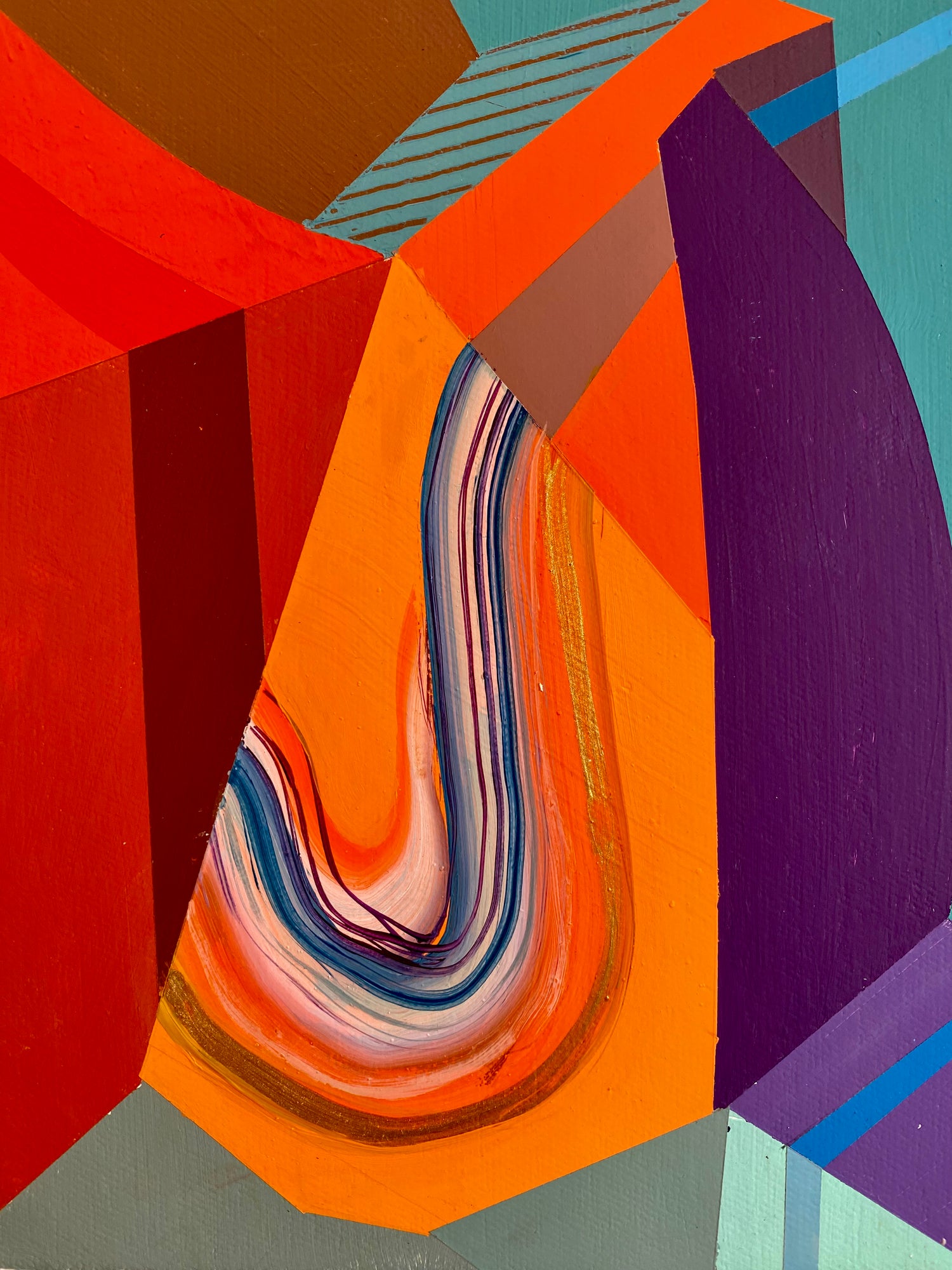 Jenniffer Omaitz
Painting can be an expansive practice, sensitive yet violent, temporal, contemplative,
bold and transformative. As a process it can move both fast and slow, be impatient yet kind, be tense and poetic—all the while performing a crafted cadence of oppositions. In my work layers of paint are exposed so the viewer can see a delicate unraveling of documentation and process. These layers look gestural, architectonic, and graphic.
They are a collection of influences, passages, and intersections.
Jenniffer Omaitz, Contained, 2023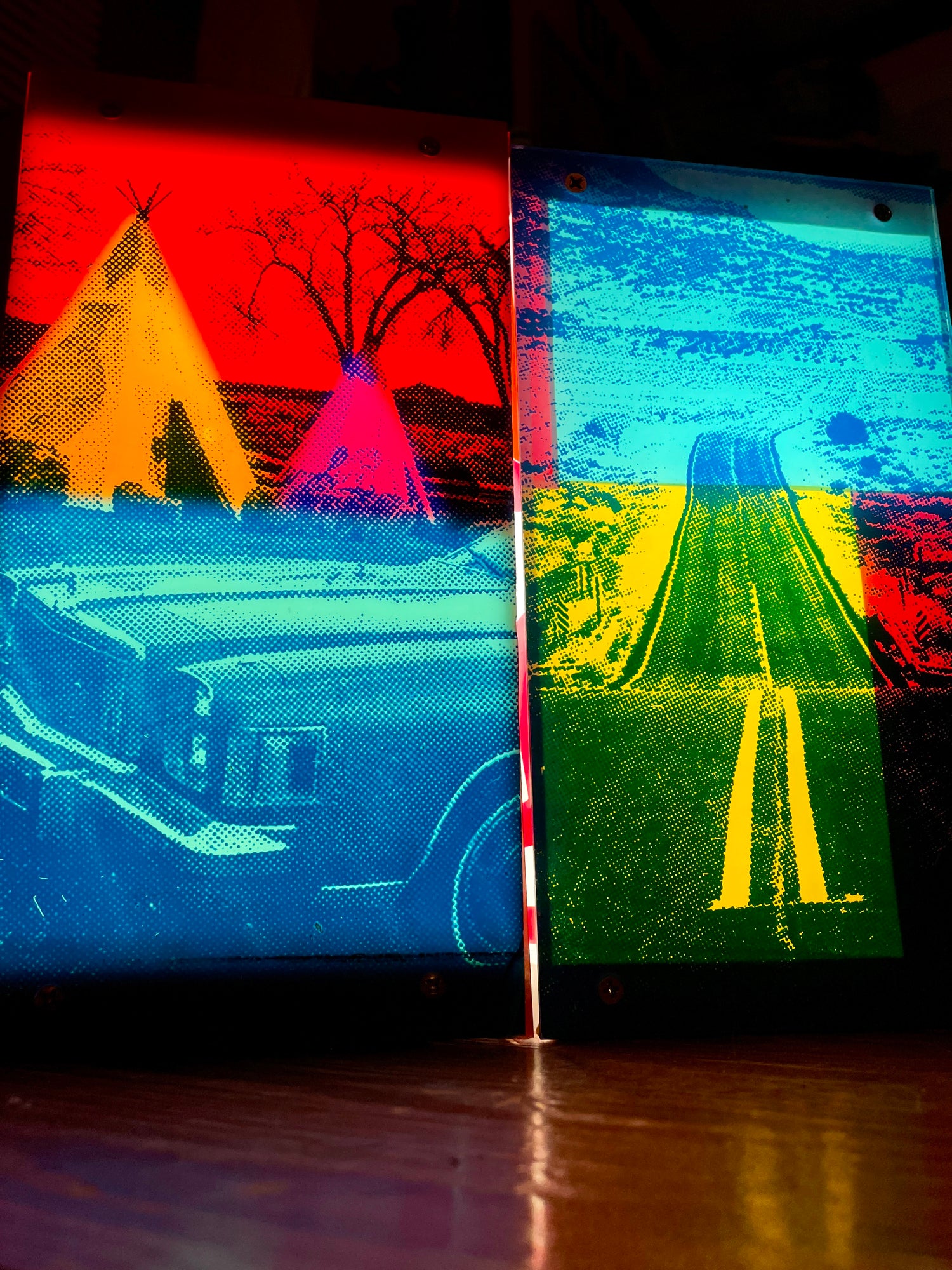 Ron Copeland
Ron Copeland's lamps are original art objects that blend photography, reclaimed elements, and a love for exploring.
"When I can, I take the long way home. Whether it's taking the Lincoln Highway or a back road that looks like it could lead somewhere I've never been. After doing this my entire adult life, I still wasn't quite prepared for what I would take in on Route 66. As the calendar flipped from 2022 to 2023, I sped down America's favorite forgotten road in search of interesting and fleeting things."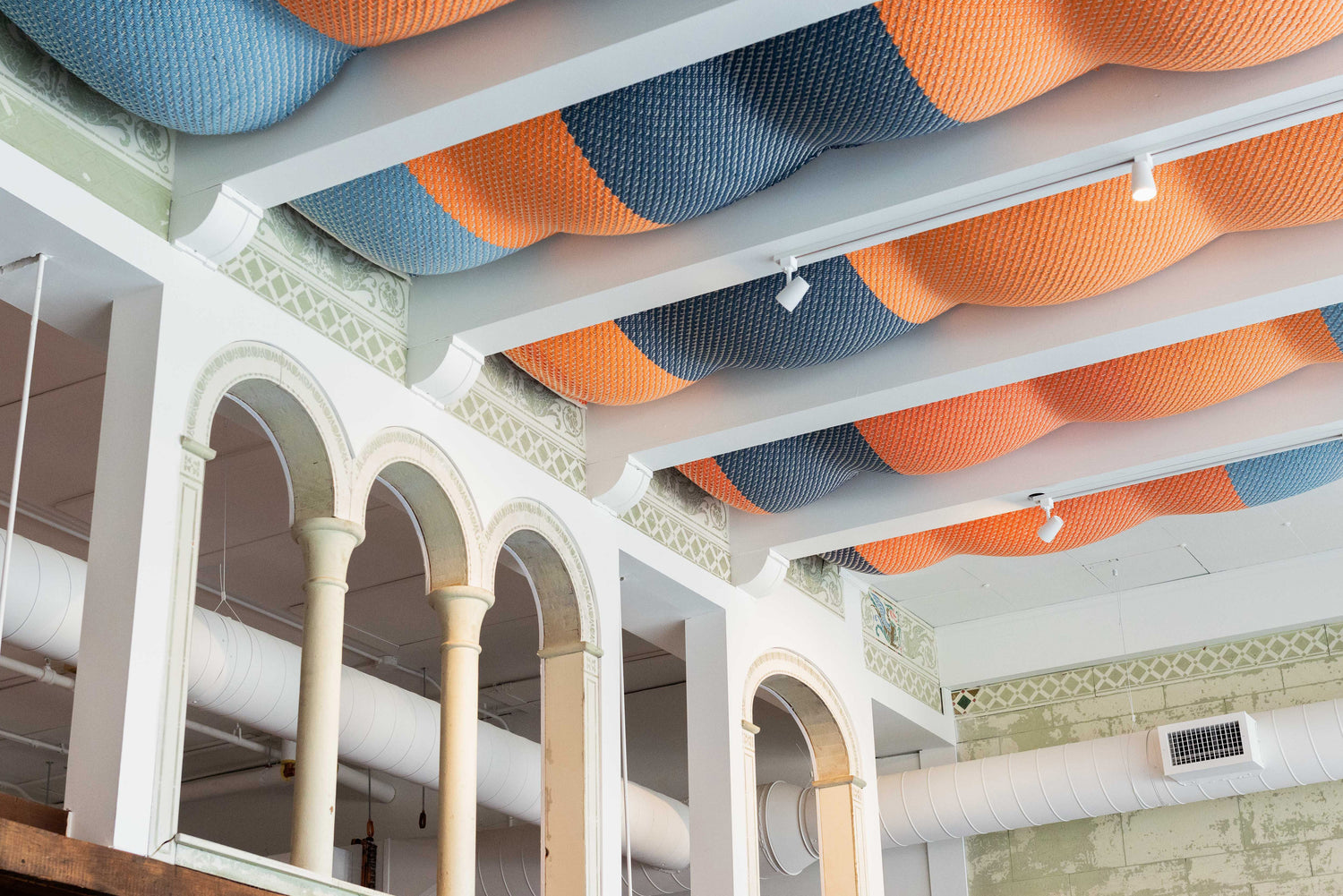 Have a project in mind? We have the artists.
Experience a dynamic project from Stephen Tornero, a celebrated textile artist, in the heart of Hingetown.
Stephen Tornero + Patron Saint
New Jewelry Artist!

A little bit about Silvija from her Artist Statement: 𝘛𝘩𝘳𝘦𝘦 𝘓𝘪𝘯𝘦𝘴 𝘚𝘵𝘶𝘥𝘪𝘰 𝘪𝘴 𝘩𝘢𝘯𝘥𝘮𝘢𝘥𝘦 𝘫𝘦𝘸𝘦𝘭𝘳𝘺 𝘣𝘺 𝘚𝘪𝘭𝘷𝘪𝘫𝘢 𝘒𝘰𝘴𝘤𝘩𝘯𝘪𝘤𝘬 – 𝘢 𝘲𝘶𝘦𝘦𝘳 𝘢𝘳𝘵𝘪𝘴𝘵, 𝘫𝘦𝘸𝘦𝘭𝘦𝘳 𝘢𝘯𝘥 𝘣𝘰𝘥𝘺𝘸𝘰𝘳𝘬𝘦𝘳 𝘪𝘯 𝘕𝘰𝘳𝘵𝘩𝘦𝘢𝘴𝘵 𝘖𝘩𝘪𝘰. 𝘚𝘪𝘭𝘷𝘪𝘫𝘢 𝘩𝘢𝘴 𝘣𝘦𝘦𝘯 𝘢𝘯 𝘢𝘷𝘪𝘥 𝘫𝘦𝘸𝘦𝘭𝘦𝘳 𝘧𝘰𝘳 𝘮𝘰𝘳𝘦 𝘵𝘩𝘢𝘯 𝘵𝘸𝘰 𝘥𝘦𝘤𝘢𝘥𝘦𝘴. 𝘚𝘩𝘦 𝘩𝘢𝘯𝘥𝘤𝘳𝘢𝘧𝘵𝘴 𝘦𝘷𝘦𝘳𝘺 𝘱𝘪𝘦𝘤𝘦 𝘰𝘧 𝘫𝘦𝘸𝘦𝘭𝘳𝘺 𝘪𝘯 𝘩𝘦𝘳 𝘴𝘵𝘶𝘥𝘪𝘰 – 𝘴𝘩𝘢𝘱𝘪𝘯𝘨 𝘢𝘯𝘥 𝘩𝘢𝘮𝘮𝘦𝘳𝘪𝘯𝘨 𝘴𝘵𝘦𝘳𝘭𝘪𝘯𝘨 𝘴𝘪𝘭𝘷𝘦𝘳, 𝘵𝘩𝘦𝘯 𝘣𝘶𝘳𝘯𝘪𝘴𝘩𝘪𝘯𝘨 𝘵𝘩𝘦 𝘮𝘦𝘵𝘢𝘭 𝘧𝘰𝘳 𝘢 𝘴𝘶𝘣𝘵𝘭𝘦 𝘱𝘢𝘵𝘪𝘯𝘢 𝘵𝘩𝘢𝘵 𝘱𝘢𝘪𝘳𝘴 𝘣𝘦𝘢𝘶𝘵𝘪𝘧𝘶𝘭𝘭𝘺 𝘸𝘪𝘵𝘩 𝘵𝘩𝘦 𝘨𝘦𝘮𝘴𝘵𝘰𝘯𝘦𝘴 𝘢𝘯𝘥 𝘢𝘯𝘵𝘪𝘲𝘶𝘦 𝘤𝘰𝘮𝘱𝘰𝘯𝘦𝘯𝘵𝘴 𝘧𝘰𝘶𝘯𝘥 𝘪𝘯 𝘩𝘦𝘳 𝘥𝘦𝘴𝘪𝘨𝘯𝘴.

Team 202

Gallery 202 Partners:

Aaron Swank

Natalie Rich

Marcus Schafer

Mark Yasenchack